Engagement Photography | San Diego
San Diego Engagement Photographer
Engagement Session
Magic doesn't even begin to describe this Fairytale Engagement Photography Session. We took in this Sunrise above the cloud line about 45 minutes from Downtown San Diego…
Let me start from the beginning..
I met the beautiful bride for coffee (mostly for the coffee ;) ) 2 months prior to this Engagement Session. She wanted engagement pictures for Save The Date and her Wedding Website but wasn't quite ready. She was just at the beginning of her wedding planning journey and the venue had barely been booked. Adding another Photography Session to the experience may seem like a lot but it's actually way more fun than stressful!
When we planned the Session, I actually already had a vision in mind. I wanted something outdoors in nature and something over the top beautiful. I didn't want to have a long night of hiking in advance so I wanted something that we could easily drive to. The Groom loves hiking so I knew this outdoor environment would be perfect for everyone as I want Engagement Sessions to reflect the couples personality.
We woke up in the middle of the night to get ready, brew some coffee, hit the dry shampoo, and jump on the road. Luckily it was around 3am when I jumped, (or more like dragged myself to the car half asleep) and since it had been raining for the past two days, there were literally no other cars on the road! I made the drive up the mountain in the fog and complete dark, racing to beat the sunrise. The weather had just passed through earlier that night and we didn't know it yet, but we were left with the most beautiful cloud coverage and fog.
As a photographer, my main concern was that I hadn't visited the outdoor locations prior and since it was still dark, I wasn't really able to plan the exact locations and therefore I couldn't visually plan each photo out before arriving and meeting the couple. I was somewhat winging it and rushing against the Sunrise which changes by the second -which was an adventure in itself! I am a visual person so I definitely know what I want out of the Session before I start shooting. Sometimes, I have imagined a vague outline of the Portrait Session and sometimes it is extremely specific...honestly it just really depends on the clients' personalities as some prefer to plan out details and make sure everything they want is captured, and others just leave it entirely up to me. If I think I will get more out of the Session by letting them be themselves, then that's what I do! It feels so natural to me to not only get some important posed photos that the couple will value but I also want to document your natural raw relationship, so I'm often very go-with-the-flow.
Here are a few of the first photos above the cloud line: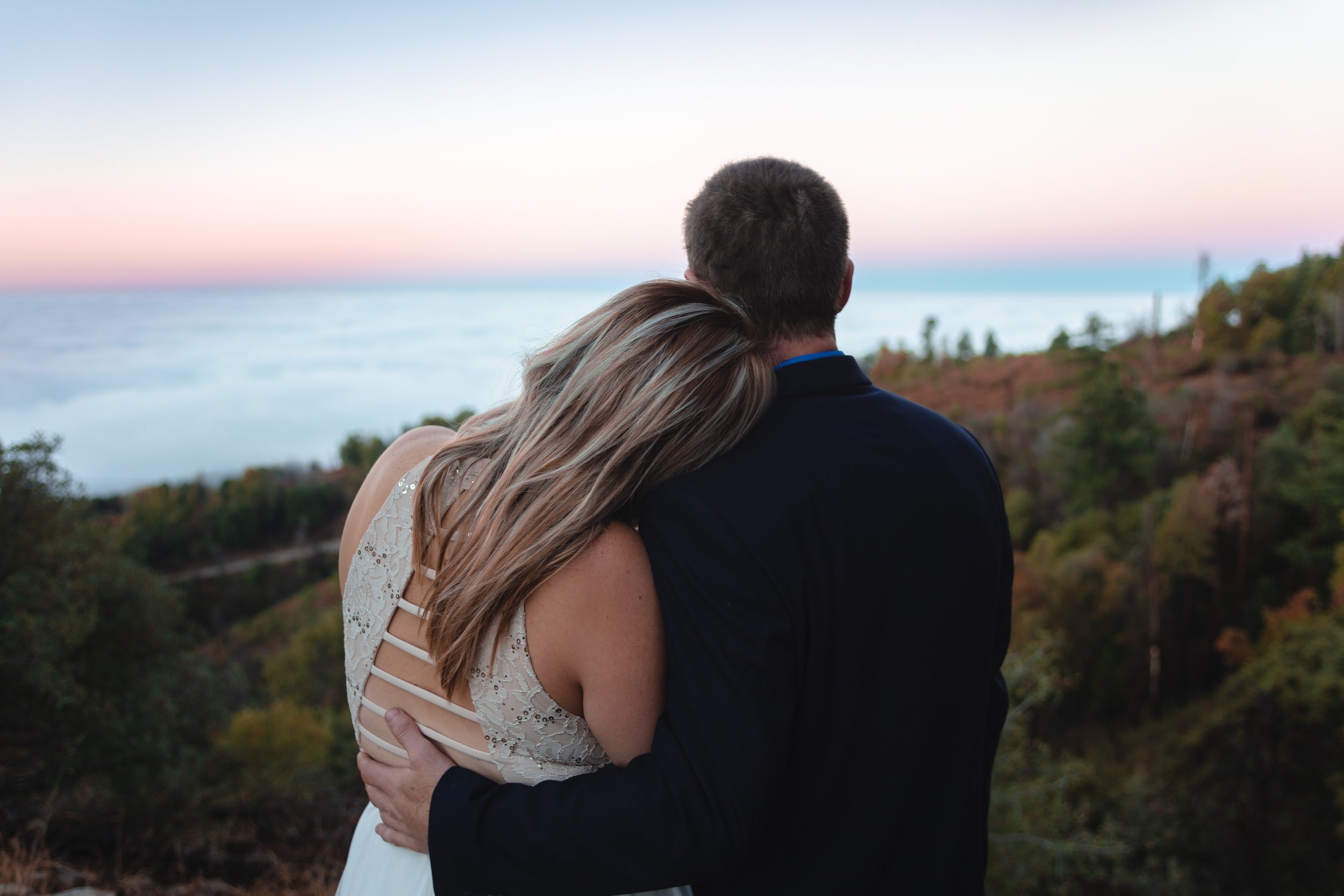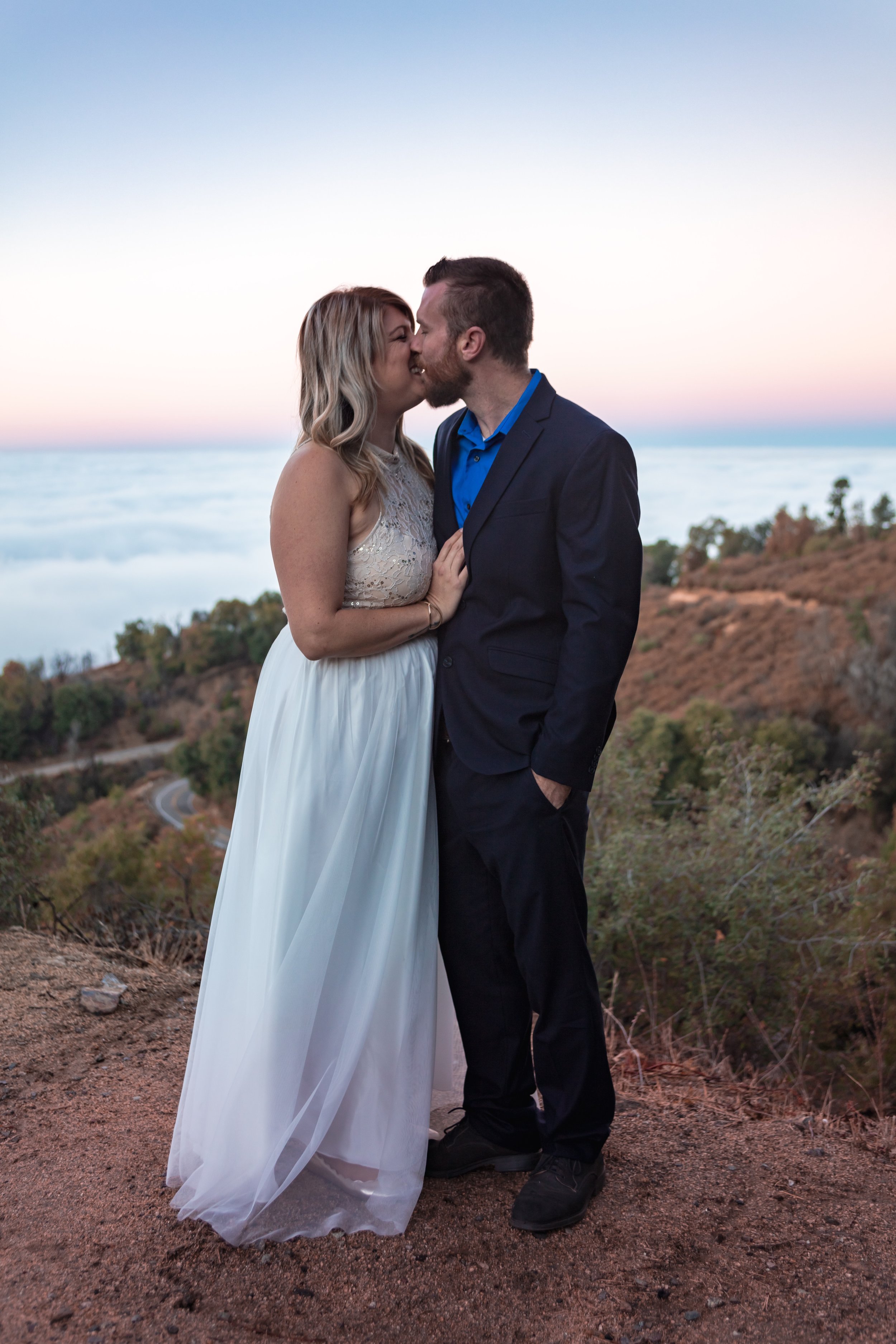 It turned out to be an amazing Engagement Session and overall the most fun and beautiful experience ever! I did definitely re-learn the value of having some familiarity with the location whenever you are on a time crunch, such as the lighting during sunset or sunrise. In addition to that, if everyone goes into the adventure knowing that you have no plan and are just hiking around looking for rad trees and views, then you will definitely be in the same head space and will be able to capture amazing photos. So that's definitely something to discuss with your photographer!
I always recommend Engagement Photos for a few reasons:
Why not? It's fun! You will remember this day long after your wedding day and will have photos and albums to sit down to show your children and tell them about mom and dad and how they met! And you will be able to show them that yes, Mom and Dad were once super fun :)

You can trial your makeup, hair, wardrobe, and learn how they work and look being photographed.

It's fun and getting married is a Journey. This is a great time to have fun with your Fiancé with less pressure as you will have on your Wedding Day.

Many times this is the first Photography Session with your partner and getting comfortable in front of the camera doesn't happen overnight. If you feel like you need to work on anything before your Wedding Day, this is your chance!

Save The Dates and Wedding Website photos are the best way to announce your beautiful relationship to the world!

For many, your Wedding Day can be stressful and this allows you to be fully present at your session and get those natural lifestyle pictures that truly show your personalities.

It allows you to get comfortable with your photographer and see how your photos turn out!

It lets your photographer learn how to best work with you for future Photography Sessions so that we can make it much easier for you and give you a better experience.
Here we moved down the mountain and got right into the cloud line!
Below the cloud line we were able to capture some wonderful photos with less artistic lighting:
I hope reading about this engagement has helped you learn a little more about Engagement Sessions and insights into what your photographer is thinking and how important it is for me to curate your entire experience for an amazing wedding journey.
The whole day and location was a complete adventure for me and a San Diego engagement that I will always remember!
xoxo
heather